In customer's own design
We also make name tapes with logo, which can be made according to your wishes.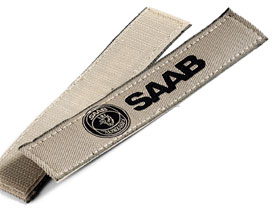 We make minimum of 50 pcs. per. design. Request by email
info@ikastetiket.co.uk
Item price custom-made:
| | |
| --- | --- |
| 50 pcs. | £ 3.90 |
| 100 pcs. | £ 2.30 |
| 250 pcs. | £ 1.70 |
Start-up expenses £50 per design (one-off payment)
Companies, associations and others, please note that all prices are excl. VAT.
Our name tapes with velcro are very popular, because we make them in an excellent and very durable quality to a good price, and delivery is quick.
We make them with velcro sewn neatly on the back, so they are ready to put on to the uniform. You can choose from many colour combinations, so you can find something to suit your requirements.
Facts
All text is centred
Max. 2 x 20 characters incl. word spacing
Velcro with rough reverse side (hook)
Made from polyester.
No loose ends or uneven text
Measurements: 25 x 137 mm.





For 34 dage siden
Good quality labels, easy to apply & received in the quoted timeframe.
John King





For 35 dage siden
Whole process was EXCELLENT … able to get large FONT on labels as..
Paul





For 48 dage siden
1st class service
andy





For 73 dage siden
Outstanding service and finished product. Exceeded my expectations and..
James Lowe