CUSTOMMADE
We do also do Infoband in your design from only 100 pcs. Please see more info by
clicking here
.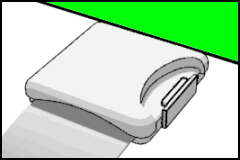 "It never happens to me'' - no let's hope not, but... just in case
FOR SHOPS
We sell Infobands to shops, water worlds, theme parks etc.
Contact us for more information or to know where your nearest dealer is.
Have a look at a shop's sales display by
clicking here
.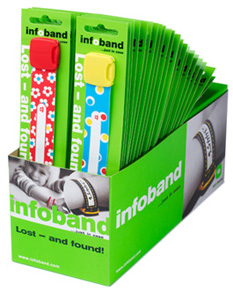 Infoband provides a safety net, not only for children, but also for parents and grandparents.
By using Infoband you guarantee that your child always has your mobile phone number and other important information available.
Facts
PVC and latex-free plastic
Patented safety catch, which can only be opened with the use of both hands
You can write on the band yourself using an ordinary biro and it will not smudge
Can be used again and again
Water-repellent Infoband for children
Wristband with name
Adjustable in size so they can be used by children of all ages.
Measurements: 21 x 195 mm





For 34 dage siden
Good quality labels, easy to apply & received in the quoted timeframe.
John King





For 35 dage siden
Whole process was EXCELLENT … able to get large FONT on labels as..
Paul





For 48 dage siden
1st class service
andy





For 73 dage siden
Outstanding service and finished product. Exceeded my expectations and..
James Lowe